TOBA LAKE
Lake Toba definitely is a very good place to visit when you are in Indonesia. The nearest way to the lake Toba from the airport (Medan ) is going to Parapat. It's about 4-6 hours by car with public transportation. Lake Toba (or Danau Toba) is the largest volcanic lake in the world, 100 km long, 30 km wide, as deep as 505 m (1,666 ft), and elevation of 900 m (3,000 ft).
A super volcanic eruption occurred here 75,000 years ago, a massive climate-changing event, perhaps the largest on Earth in the last 25 million years, and may have had global catastrophic consequences; some scientists believe that this eruption may have wiped out much of humanity and may have created a population bottleneck that affected the genetic inheritance of all human survivors.
If you come to Toba you will enjoy many things like Batak's Songs and dance. its very famous in the world, especially in Indonesia, everyone knows that Batak's tribe has a special talent  in Singing, and Batak's music's are very unique and very beautiful to listen. The food in Toba's Lake area (Batak's Food) are very unique too, some of the food receipts are mixed with some plants that only growth in Batak's Land, the taste is very good.
Batak's Traditional Dancing with Traditional Costums
Batak's traditional fashions are very unique and very beautiful to wear, very rich in color and decorations. The original house of Batak's is very  unique architecture according to the functions from the original design. Batak's people are very nice and very friendly. You can say HORAS!!! if you meet batak's people in Toba and everywhere. That's the best and very honor Greetings in Bataks culture.
If you stand before the Lake Toba from any point of view, you will be very Amazed of the beauty of this Lake. What are you waiting for? It's a very worth and unique journey, if you come to TOBA. Come Visit Toba!
Praising about Toba Lake

Amazed by this beauty, Prince Bernhard of the Netherlands allowed his name used to "sell" Lake Toba. "Sell my name for this lake. I can't describe how beautiful Lake Toba is, "said the prince while visiting Toba in 1996.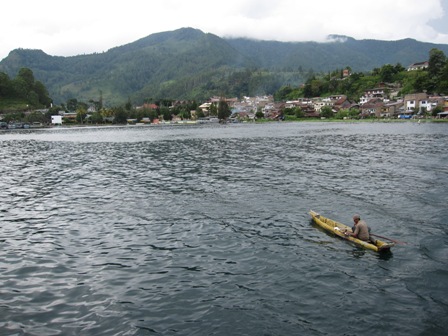 Majority of Batak's people are Christians and they are very good and high talented in singing (solo or group). You will be amazed too about Batak's songs and how they express their meaningful life through singing. Welcome to Toba Lake. Happy Holidays!
Map of Toba Lake, North Sumatra:
Map of Indonesia:
Incoming search terms: